We are the Full Service Vacation Rental Property Management company whose only focus is managing vacation rental properties in the Bryson City, Cherokee, Fontana Lake and Nantahala areas of the North Carolina Smoky Mountains. This kind of expert focus means our success is completely joined to the success of the cabins we manage. As a small town ( Bryson City, NC ) company Carolina Mountain Vacations was built on and is dedicated to the idea of honest, friendly and personal service. For the cabin owner, this means a friendly professional team that is truly concerned with your rental property including: an experienced and easily reached office staff, a dependable and thorough cleaning crew, a competent and responsive maintenance crew, an in-house marketing department with professional photography and aggressive SEO approach to the internet. Our team's full service approach to vacation rental property management provides:

Rental Management : Local office ( 40 Greenlee St, Bryson City ) available for guests to check in/out 9am to 9pm 7 days a week • Telephones and Emails answered 9am to 9pm 7 days a week by a live person to take reservations • Fair and honest promotion of all cabins • Accept credit cards at no charge to owner (2-3% of rent) • Competitive rental rates • Housekeeping • Laundry service • Pre & Post guest inspections • Monthly owner statements including full accounting of income & expenses

Property Maintenance : Weekly proactive inspections of building & grounds (no charge) • Full lawn care service • Regular hot tub maintenance • Work with local contractors/vendors for services needed • Trash removal • Annual spring cleaning of entire cabin

Marketing : In-house web site design with an SEO (Search Engine Optimization/placement) focus combining efforts to achieve high organic positioning for our targeted keyword phrases, together with an aggressive "pay-per-click" program • professional photography to honestly and creatively highlight your cabins true marketing potential • direct emails to repeat guest and qualified leads secured from our web site and other linked web sites, chamber of commerce, etc.

Carolina Mountain Vacations understands the large investment you have made in your rental property. We also realize that you expect the greatest possible return on your investment. Successful vacation rental cabin management requires a great deal of dedication, time and expertise. This is why we chose to focus only on managing vacation rental properties and how we will work to make your rental cabin a successful investment!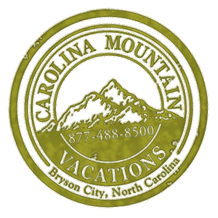 Rental Cabins by Name
Rental Lofts
by Name